HEATER!!
Work Potlucks!!! I am blessed to work with a boatload of fantastic cooks and a wide variety of cultured colleagues, so when we have potlucks for Thanksgiving, Christmas or even just to lift moral, it's always a feast to remember! Ship it!! That's all I got. It speaks for itself.

HEATER!!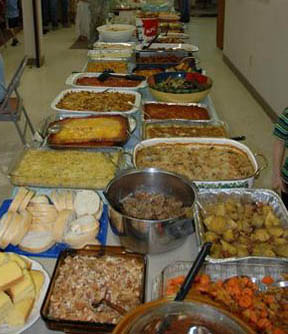 COOLER!!
Trying to celebrate Christmas in the Quarter Juif!! Our good friend Sean lives in Toronto and to save a few bucks he rents out a basement apartment for $700/month all inclusive and it happens to be in a strong Jewish community known as the Jewish Quarter. Now you have to understand, Sean is pretty much Kris Kringle when it comes to Christmas. He always has the goofy Santa hat on and even went as far as to put sleigh bells on his backpack last year when I saw him. Picture Kirby from Rudolph except he doesn't want to be a dentist. NOW picture this little elf walking through the Quarter Juif in all his splender to stares from all the residents!!! Makes me laugh hysterically, but DEFINITELY a

COOLER

for Sean. GG Christmas cheer.
We all miss you in O-Town sir!!